Welcome to your vacation hilltop getaway!
Welcome to the highest point in all of Chatham! Skyline drive sweeps up and away from Old Queen Ann road like an eagle and allows dramatic views of the Chatham bay and the islands beyond it. The 4 bedroom 2 level house has an expansive deck with lounge chairs, a barbeque pit for burgers and chicken, and a two car garage.


This isn't really the view from the deck...but it's close!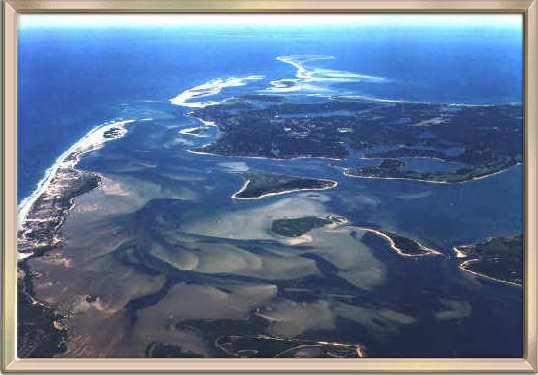 Enjoy the fun of the Chatham band during the summer evenings. Ice cream, hotdogs, and fireworks!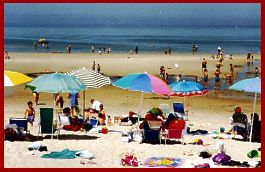 Things to do in Chatham
Have breakfast at Cloud9 at Airport or Larry's PX on Rt28 or for some elegance: Wayside Inn on Main Street or dinner at the Chatham Bars Inn on Shore Road , lunch and dinner at The Chatham Squire, Ice Cream at Chatham's Emack & Bolio's. For a very elegant evening meal Chillingworth in Brewster ( the only 4-star in NE)
Take a plane-ride at the local airport on George Ryder Rd and see the impressive sight of the sandbanks of the Lower Cape; take a speedboat from Saquatucket Harbor (508-432-8999) to Nantucket in less than 90 min; go deep sea fishing on the Albatros from Sesuit Harbor in Dennis (508-385-3244); go whale watching with the Dolphin Fleet in Provincetown; go on a sealwatch to Monomoy Island in Chatham (Beachcomber 508-945-5265);go on a sunset cruise or sportfishing charter etc.
For a quiet time visit the local Atwood House museum or the New England Fire and History Museum in Brewster on Rt6A or innumerable Art Galleries starting with the Munson Gallery on Rt28.
Enjoy swimming on Harding Beach and walk the mile of sand to the Stage Harbor Lighthouse; Schoolhouse pond in Chatham or the much larger Nickerson State Park in Brewster has sweet-water beaches for small children; and visit the famous Brewster Flats of Cape Cod Bay at low tide when the water recedes one mile and walk the sand bars and tidal pools etc.
Bike and hike the Cape Cod Rail trail which is over 30 miles long, on paved paths past cranberry ponds and bogs. For the golfer in you, there are many excellent golf courses to choose from…too many to list. If interested, I will send you a booklet with all activities on the Lower Cape.
To see more pictures of historic and exclusive Chatham , click on the Chatham button for a virtual walk in and around Chatham and the cape. To see what living in the this hilltop getaway is like, visit the 'Our Home' page. Wanna know what to do while you are on vacation? click on the Things to do button and find out about biking, antiqueing, art galleries, canoeing, sailing on the open ocean and daily events throughout the cape.