Welcome to Brewster!

Quaint, quiet, and slow-paced, Brewster is one of the Cape's most picturesque towns. Many of the beautiful old inns and charming restaurants were sea captains' homes in the 18th and 19th centuries. All of Brewster's saltwater beaches are on Cape Cod Bay. At low tide, it's possible to walk out a mile on the Brewster Flats. Brewster is home to the Cape Museum of Natural History, which offers nature and marine exhibits, guided field walks, classes, and self-guided trails through 80 acres of marshland, forest, and ponds. Nickerson Park is ideal for biking or picnics among more than 1,700 acres of tall pines, bike trails, and fresh-water ponds. The Cape Cod Rail Trail runs through town along an abandoned railbed. Bikers pass by salt marshes, cranberry bogs, ponds, and Nickerson State Park. For more information, call the Brewster Chamber of Commerce at (508) 255-7045.
Beautiful sunrises and sunsets can be seen just a five minute walk down at Brewster beach. To see more pictures of Brewster, click on the Brewster button for a virtual walk in and around Brewster and the cape. To see what living in the Ellis Homestead is like, visit the 'Our Home' page. Wanna know what to do while you are on vacation? click on the Things to do button and find out about biking, antiqueing, art galleries, canoeing at Nickerson Park, sailing on the open ocean and daily events throughout the cape.


This is a picture of Brewster's town hall...

This is the gift shop along historic route 6A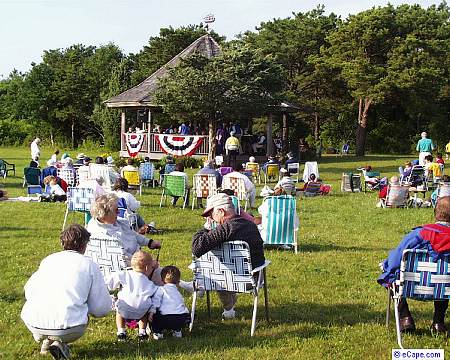 Here is the famous band gazebo that plays fun family music during the warm summer evenings...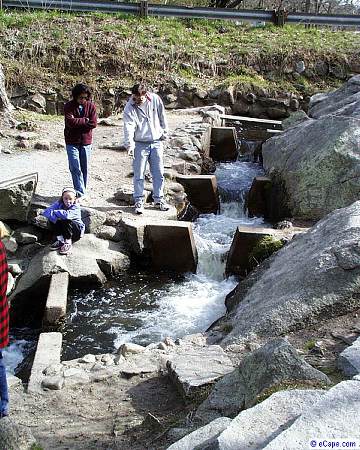 This is the herring run built to help the small fish make it upstream to their breeding grounds...

One of the many lovely beaches in Brewster that you will enjoy this summer!